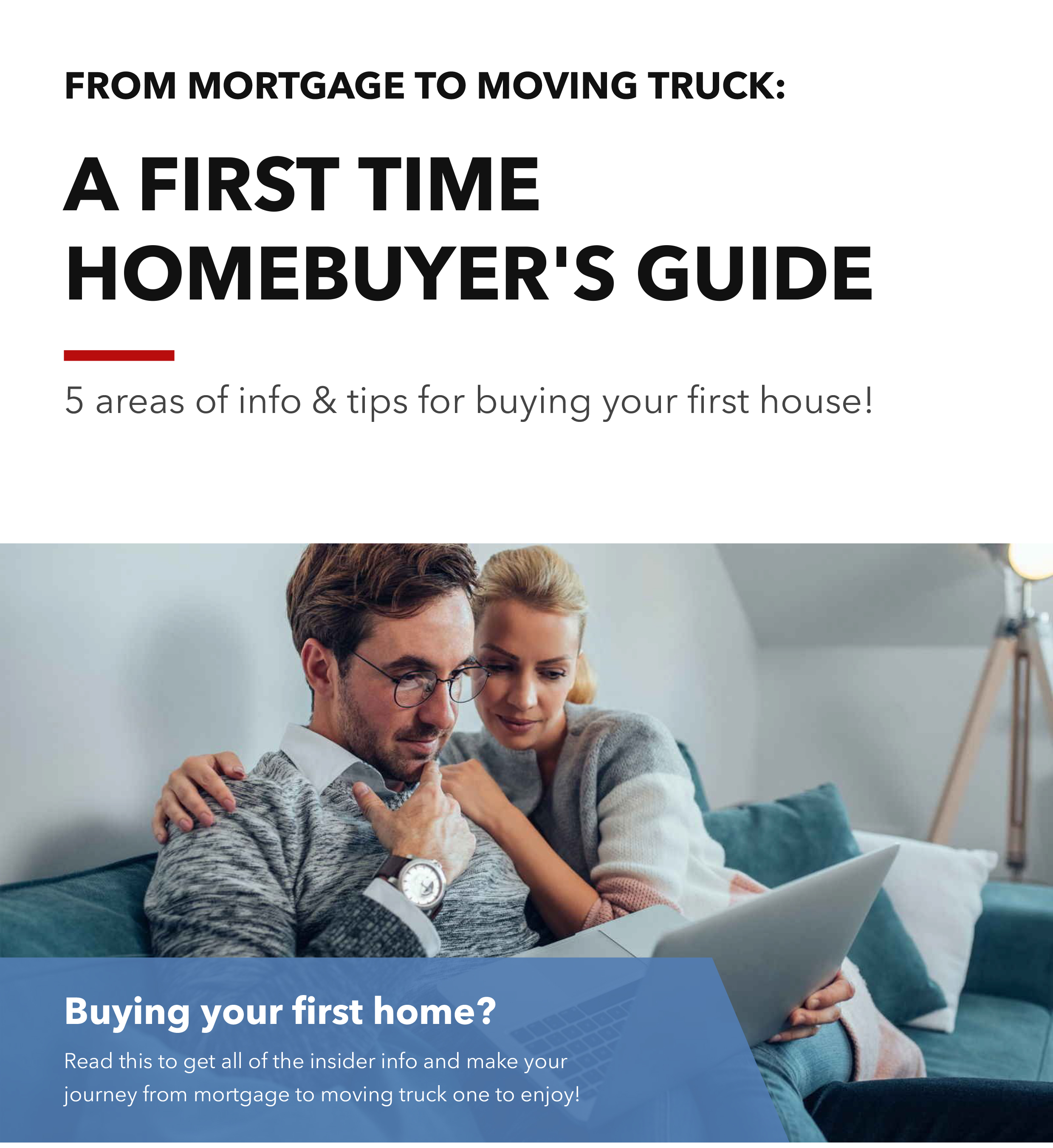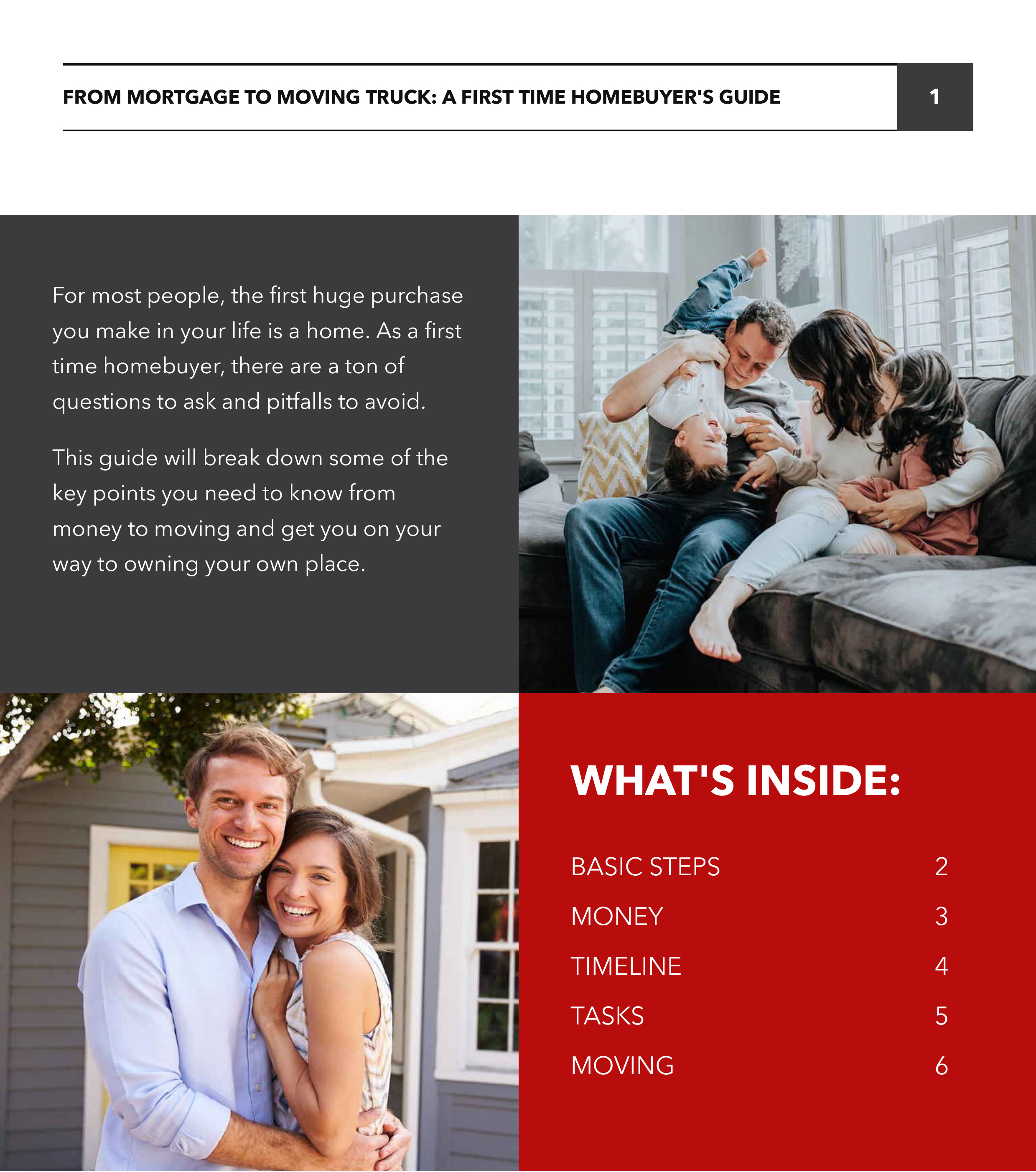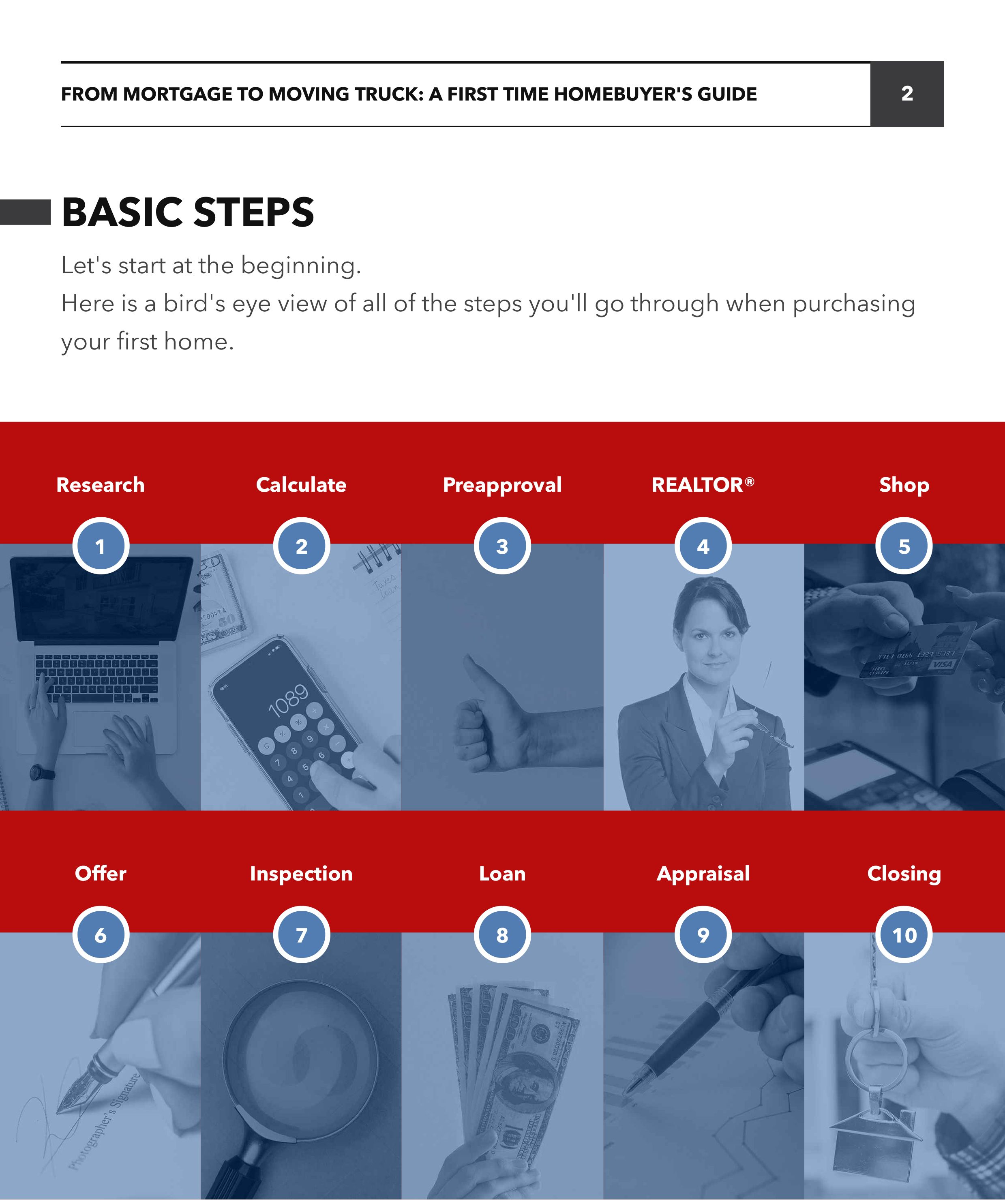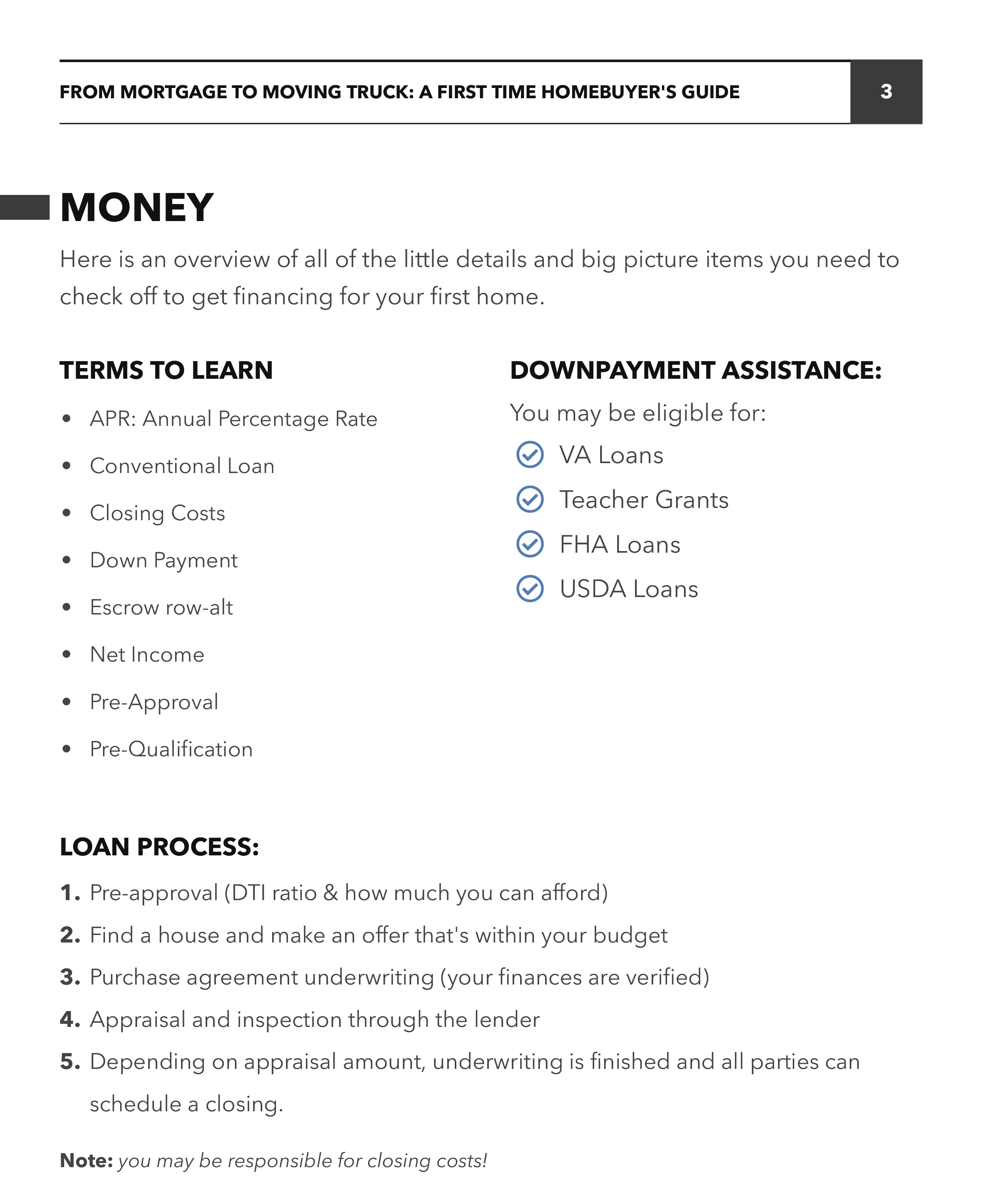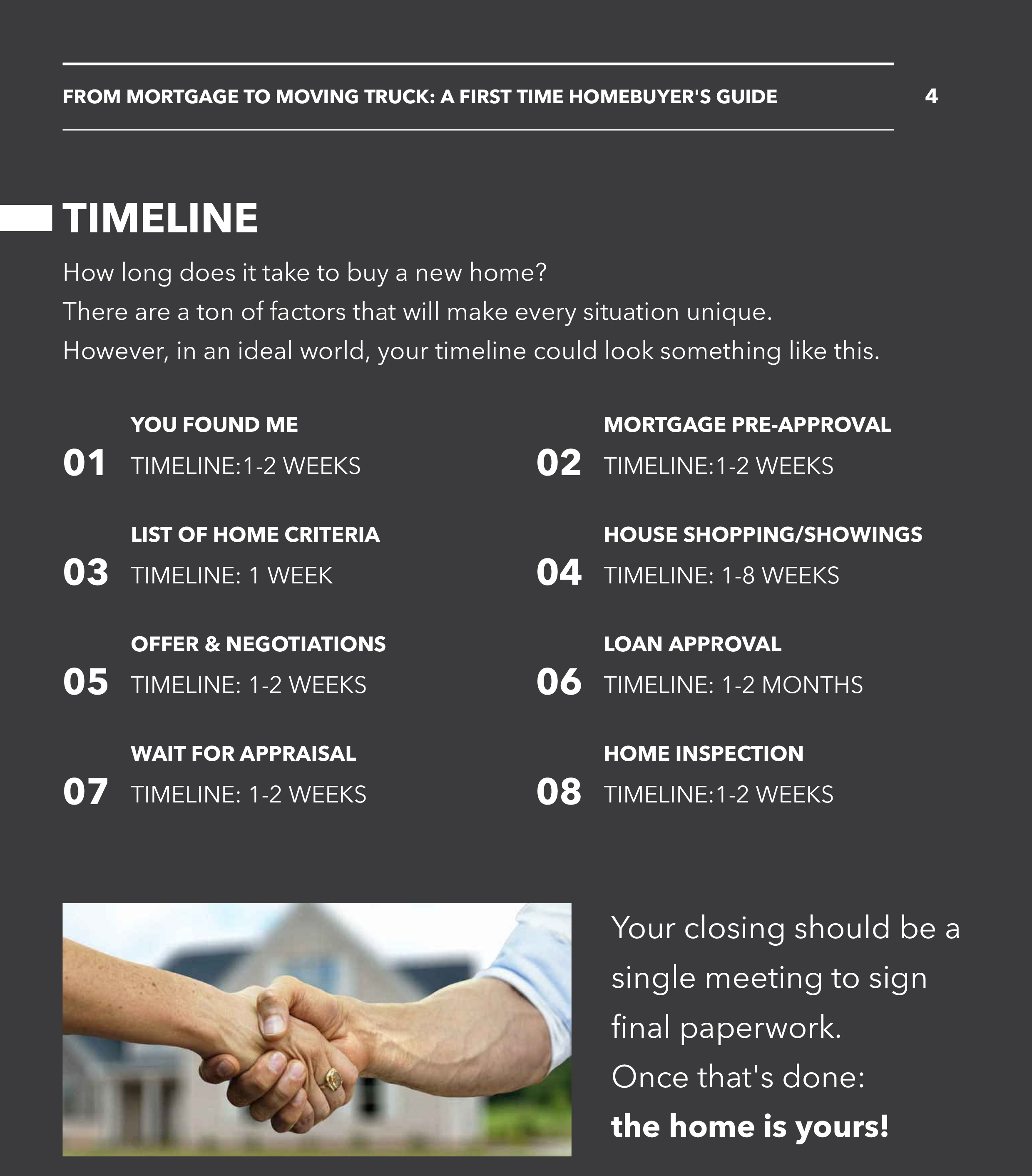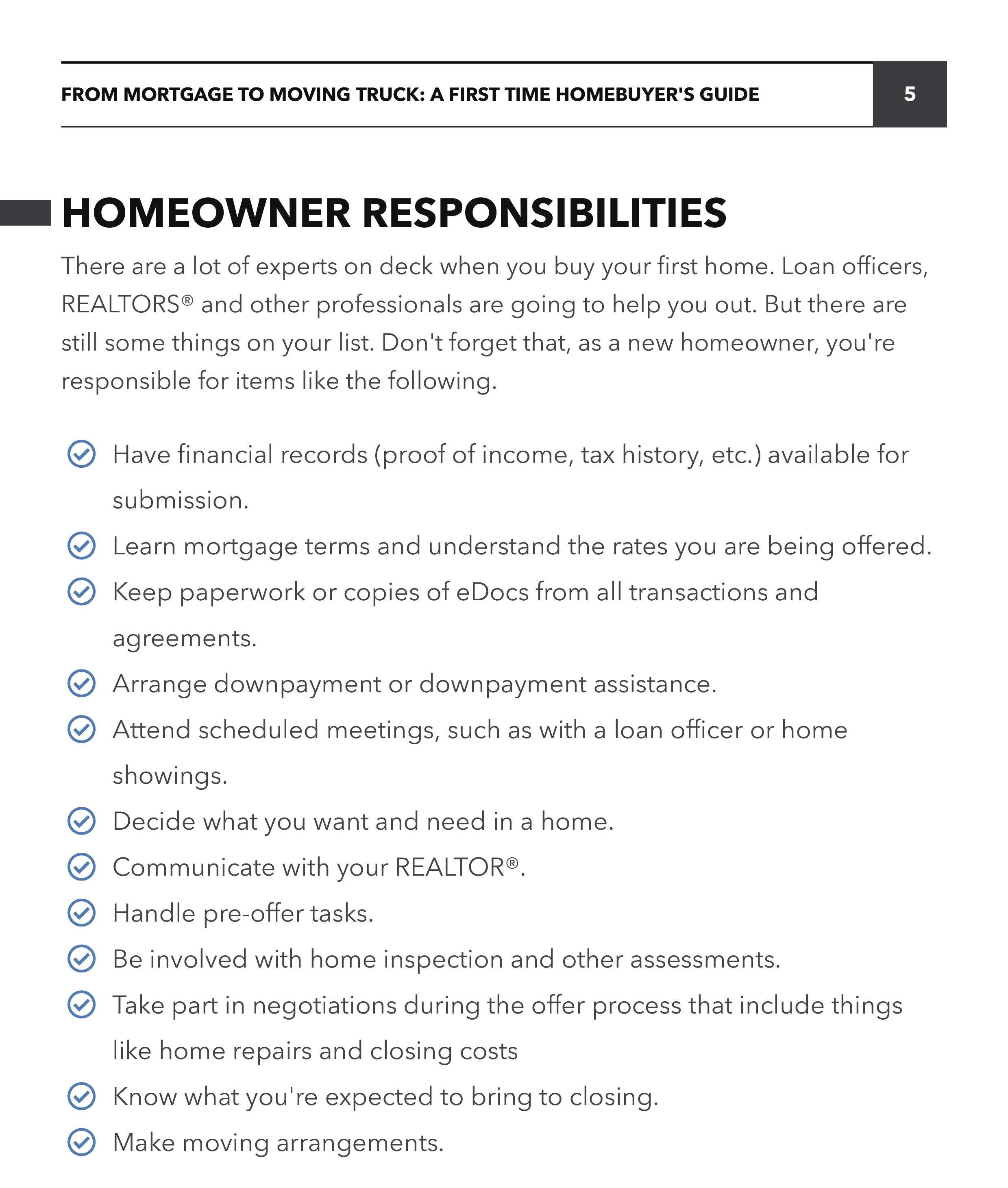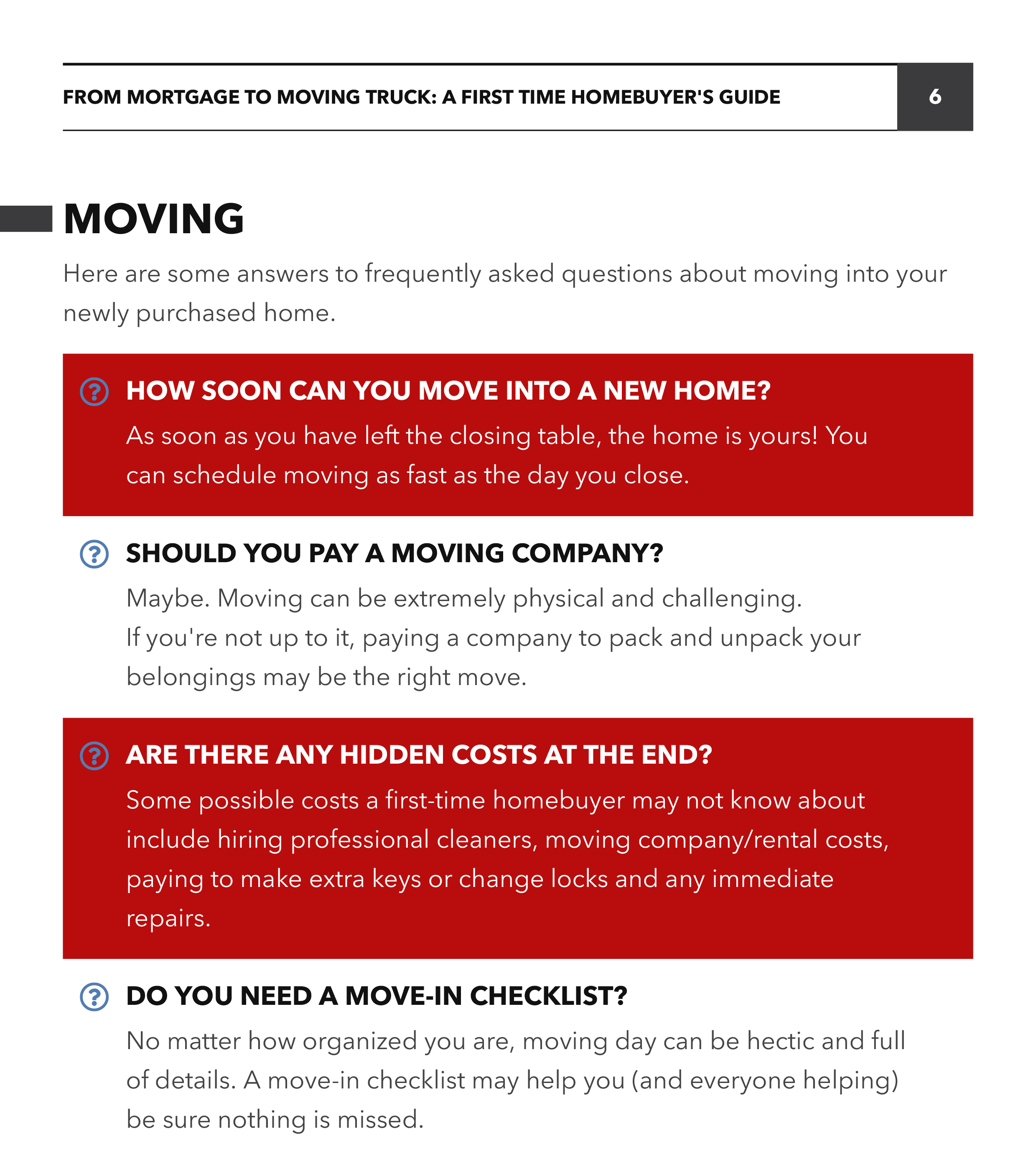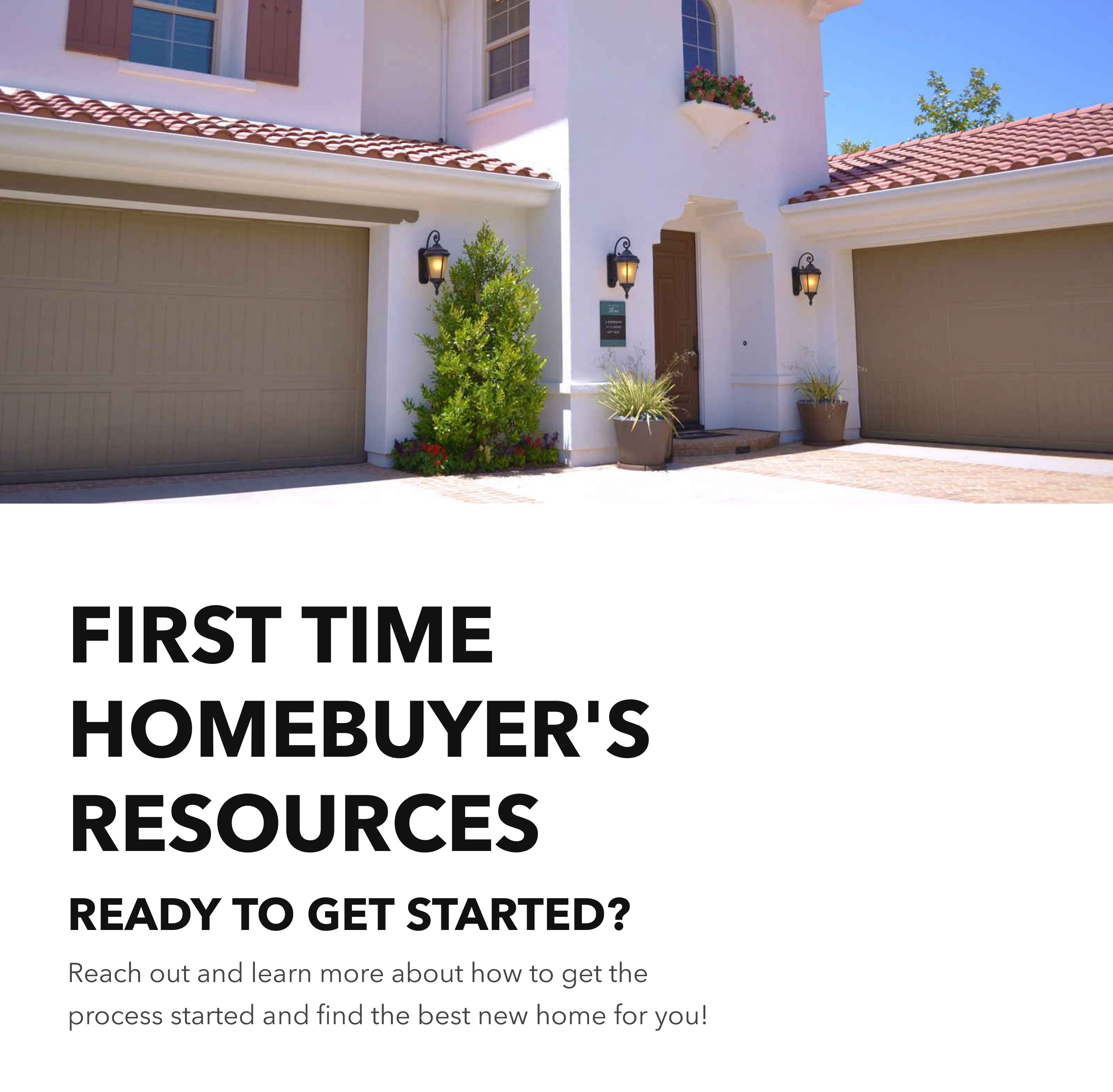 Ready to Buy Your First Home? Let Us Help!
For most people, the first huge purchase you make in your life is a home. As a first time homebuyer, there are a ton of questions to ask and pitfalls to avoid. This guide will break down some of the key points you need to know from money to moving and get you on your way to owning your own place.
Basic Steps
Let's start at the beginning. Here is a bird's eye view of all of the steps you'll go through when purchasing your first home.
1. Research
2 Calculate
3 preapproval
4. REALTOR
5. Shop
6. Offer
7. Insoection
8. Loan
9. Appraisal
10. Closing
MONEY- Here is an overview of all of the little details and big picture items you need to check off to get financing for your first home.
TERMS TO LEARN • APR: Annual Percentage Rate • Conventional Loan • Closing Costs • Down Payment • Escrow row-alt • Net Income • Pre-Approval • Pre-Qualification
DOWNPAYMENT ASSISTANCE: You may be eligible for: VA Loans Teacher Grants FHA Loans USDA Loans
LOAN PROCESS: . Pre-approval (DTI ratio & how much you can afford) 2. Find a house and make an offer that's within your budget 3. Purchase agreement underwriting (your finances are verified) 4. Appraisal and inspection through the lender Depending on appraisal amount, underwriting is finished and all parties can schedule a closing. Note: you may be responsible for closing costs!
TIMELINE: How long does it take to buy a new home? There are a ton of factors that will make every situation unique. However, in an ideal world, your timeline could look something like this. FROM MORTGAGE TO MOVING TRUCK: A FIRST TIME HOMEBUYER'S GUIDE 4 TIMELINE 01 YOU FOUND ME TIMELINE:1-2 WEEKS 02 MORTGAGE PRE-APPROVAL TIMELINE:1-2 WEEKS 03 LIST OF HOME CRITERIA TIMELINE: 1 WEEK 04 HOUSE SHOPPING/SHOWINGS TIMELINE: 1-8 WEEKS 05 OFFER & NEGOTIATIONS TIMELINE: 1-2 WEEKS 06 LOAN APPROVAL TIMELINE: 1-2 MONTHS 07 WAIT FOR APPRAISAL TIMELINE: 1-2 WEEKS 08 HOME INSPECTION TIMELINE:1-2 WEEKS Your closing should be a single meeting to sign final paperwork. Once that's done: the home is yours!
HOMEOWNER RESPONSIBILITIES:There are a lot of experts on deck when you buy your first home. Loan officers, REALTORS® and other professionals are going to help you out. But there are still some things on your list. Don't forget that, as a new homeowner, you're responsible for items like the following. FROM MORTGAGE TO MOVING TRUCK: A FIRST TIME HOMEBUYER'S GUIDE 5 HOMEOWNER RESPONSIBILITIES Have financial records (proof of income, tax history, etc.) available for submission. Learn mortgage terms and understand the rates you are being offered. Keep paperwork or copies of eDocs from all transactions and agreements. Arrange downpayment or downpayment assistance. Attend scheduled meetings, such as with a loan officer or home showings. Decide what you want and need in a home. Communicate with your REALTOR®. Handle pre-offer tasks. Be involved with home inspection and other assessments. Take part in negotiations during the offer process that include things like home repairs and closing costs Know what you're expected to bring to closing. Make moving arrangements.
MOVING: Here are some answers to frequently asked questions about moving into your newly purchased home. As soon as you have left the closing table, the home is yours! You can schedule moving as fast as the day you close. Maybe. Moving can be extremely physical and challenging. If you're not up to it, paying a company to pack and unpack your belongings may be the right move. Some possible costs a first-time homebuyer may not know about include hiring professional cleaners, moving company/rental costs, paying to make extra keys or change locks and any immediate repairs. No matter how organized you are, moving day can be hectic and full of details. A move-in checklist may help you (and everyone helping) be sure nothing is missed.
FIRST TIME HOMEBUYER'S RESOURCES READY TO GET STARTED? Reach out and learn more about how to get the process started and find the best new home for you!