TBD Hwy 285, Jefferson CO 80456
Posted by JoAnn MacDougall on Wednesday, August 16, 2023 at 11:59:47 AM
By JoAnn MacDougall / August 16, 2023
Comment
TBD Hwy 285, Jefferson CO 80456 - Commercial Property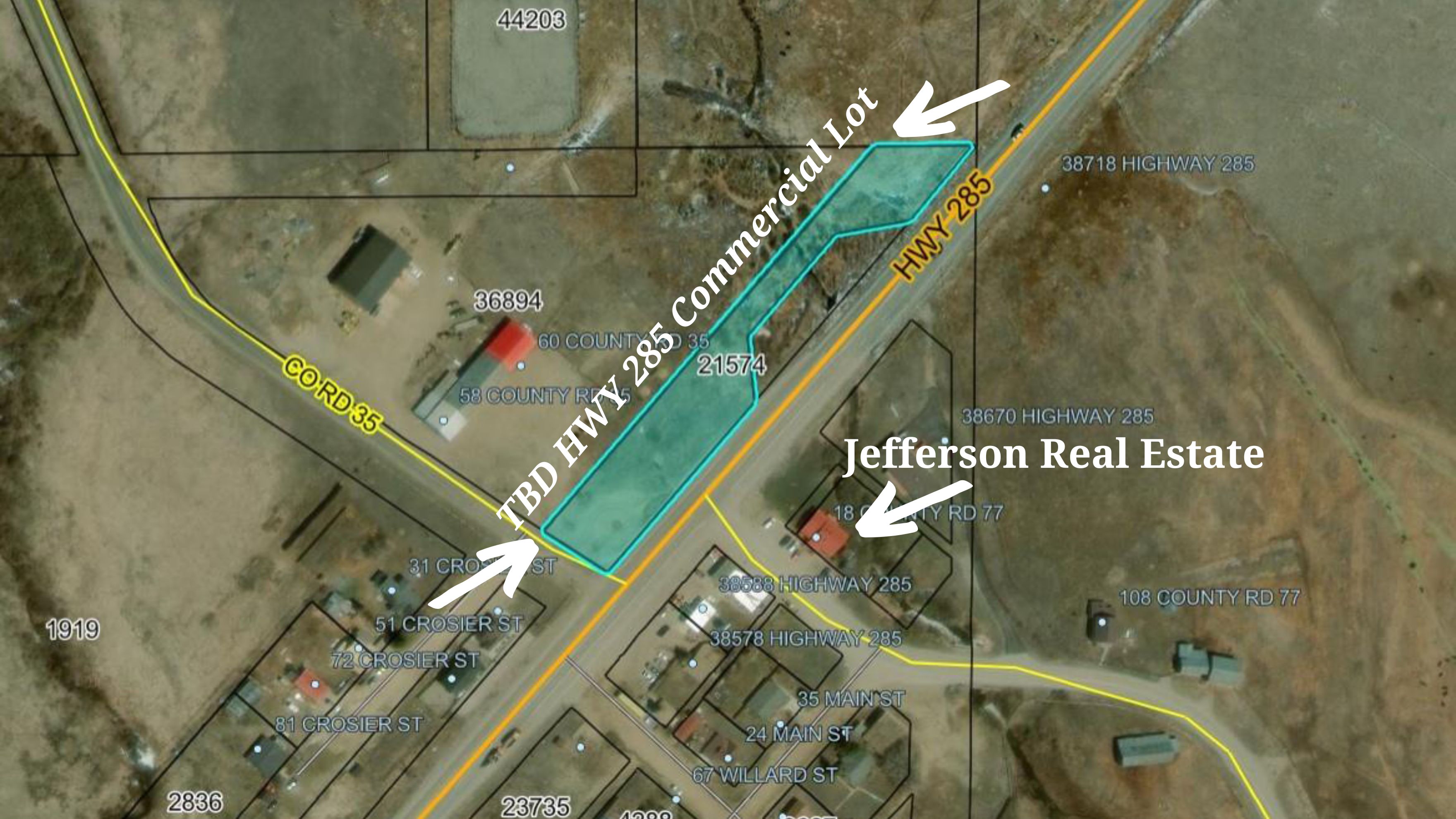 South Park is the Gateway to the Authentic Mountain Experience, and it is growing. This is your chance to become a part of it. Join the other successful local businesses. Located at the intersection of Hwy 285 and County Road 35, this 1.1 acre Commercial property has huge 285 frontage and is also accessible from County Road 35.
Hwy 285 has become THE route of choice for anyone venturing to the mountains. Traffic Count year round is massive. All the hikers, bikers, skiers, rafters, hunters, fishermen, and weekend campers have discovered this scenic corridor with panoramic mountain views as a much more pleasant route to their destinations.
Ascending Kenosha Pass the journey opens up to all the outdoor, mountain activities everyone wants. Plus, several communities filled with full time residents and short term rental properties are tucked back off the highway to add to your clientele. Jefferson is a supportive community and current businesses in the area are very successful with both locals and tourists. As this is the first commercial property you reach in South Park, and has easy access off of Hwy 285, you will have maximum visibility and a draw for all the traffic. The property also has a live stream running through it for added charm; everyone wants a charming stop on their travels. The property qualifies for a commercial well. This is a great investment or business opportunity. Find your niche.
For more listings in and around Jefferson click HERE TBD Hwy 285, Jefferson CO 80456 - Commercial Property

JoAnn MacDougall
Email: [email protected]
Cell Phone: 719.838.0117
Office Phone: 719.838.7004
---
Why Jefferson Real Estate? TBD Hwy 285, Jefferson CO 80456 - Commercial Property
Jefferson Real Estate, Inc. represents the region's finest properties with exceptional skill using the most innovative technologies currently available. We offer ultimate privacy and security, speed, and efficiency. Our Decades of full-time experience have given us a clear understanding of the mindset of home buyers and sellers and a thorough understanding of the Park County regional marketplace.
The Jefferson Real Estate Family Heritage TBD Hwy 285, Jefferson CO 80456 - Commercial Property
The Jefferson Real Estate Heritage goes back to 1800′s when Kevin Copelands Great Great grandparents arrived in Colorado by wagon train. As a fourth generation Coloradoan he offers a lifetime of experience and expertise to clients and Realtors at Jefferson Real Estate that is a valuable asset in assisting you with the purchase or sale of western properties. All of the Realtors at Jefferson Real Estate (Kevin, Tammy, Rich, JoAnn, Billi, & Kathie) love and live in Park County, they will be proud to share it and enjoy helping you become a part of its rich history. Their efforts and dedication to Jefferson Real Estate plays an integral role in maintaining our reputation as the leading real estate firm in the South Park area. TBD Hwy 285, Jefferson CO 80456 - Commercial Property
Experience Matters TBD Hwy 285, Jefferson CO 80456 - Commercial Property
With Decades of experience helping local buyers and sellers just like yourself, we know how to locate the finest properties and negotiate the best deals in the west. It's our job to know about the latest Park County market conditions and government regulations — so that you don't have to.