Park County Average Sales Prices 2014-2022
Posted by Kevin Copeland on Sunday, January 22, 2023 at 12:05:27 PM
By Kevin Copeland / January 22, 2023
Comment
Park County Average Home/Cabin Sales Prices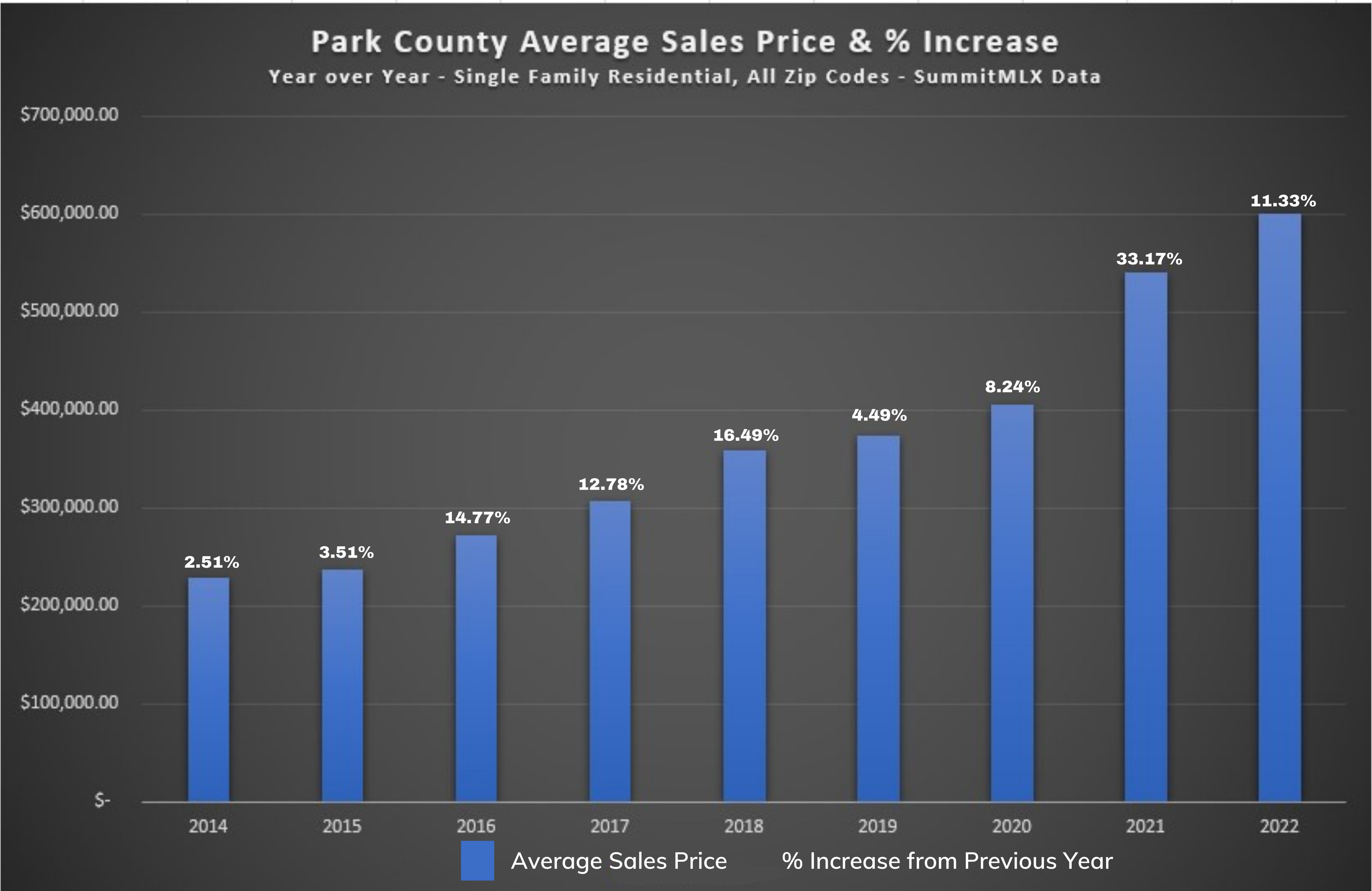 Cabin and home prices have been on the rise in the last decade, and we are seeing some signs of it slowing down. According to a recent study, the average price of a cabin or home in the United States has increased by nearly 80% in the last 10 years. This trend is expected to continue a bit slower, with experts predicting that prices will continue to rise or hold thier value in the next few years. Park County, Colorado average home prices
One of the main reasons for this increase in prices is the growing demand for vacation homes and cabins. With more and more people looking to escape the hustle and bustle of city life and enjoy the great outdoors, the demand for these types of properties has skyrocketed.
Despite the rising prices, experts believe that cabin and home prices will continue to hold their value in the future. According to a recent forecast, the average price of a cabin or home is expected to hold thier value in the coming years. This is due to the continued demand for these types of properties, as well as the growing popularity of vacation home ownership. Park County, Colorado average home prices
While the rising prices may be a concern for some, it's important to remember that owning a cabin or home is still a solid investment. Not only do these properties provide a place to escape and relax, but they also have the potential to appreciate in value over time. So if you're thinking about buying a cabin or home, now may be the perfect time to make that investment. Park County, Colorado average home prices
Kevin Copeland
Email: [email protected]
Cell Phone: 970.368.0025
Office Phone: 719.838.7001
---
Why Jefferson Real Estate?
Jefferson Real Estate, Inc. represents the region's finest properties with exceptional skill using the most innovative technologies currently available. We offer ultimate privacy and security, speed, and efficiency. Our Decades of full-time experience have given us a clear understanding of the mindset of home buyers and sellers and a thorough understanding of the Park County regional marketplace. Park County, Colorado average home prices
The Jefferson Real Estate Family Heritage
The Jefferson Real Estate Heritage goes back to 1800′s when Kevin Copelands Great Great grandparents arrived to Colorado by wagon train. As a fourth generation Coloradoan he offers a lifetime of experience and expertise to clients and Realtors at Jefferson Real Estate that is a valuable asset in assisting you with the purchase or sale of western properties. All of the Realtors at Jefferson Real Estate (Kevin, Tammy, Rich, JoAnn, Billi, Amanda & Kathie) love and live in Park County, they will be proud to share it and enjoy helping you become a part of its rich history. Their efforts and dedication to Jefferson Real Estate plays an integral role in maintaining our reputation as the leading real estate firm in the South Park area.
Experience Matters
With Decades of experience helping local buyers and sellers just like yourself, we know how to locate the finest properties and negotiate the best deals in the west. It's our job to know about the latest Park County market conditions and government regulations — so that you don't have to. Park County, Colorado average home prices