Lost Creek Wilderness, Park County Colorado
Posted by Kevin Copeland on Friday, April 10, 2020 at 3:07 PM
By Kevin Copeland / April 10, 2020
Comment
Lost Creek Wilderness was officially designated by the Colorado Wilderness Act of 1980 with additions in 1993. Today it totals 119,790 acres. Elevations range from 8,000' to 12,400' above sea level. Lost Creek was named after a creek of the same name that repeatedly disappears undergound only to reappear again further downstream where it ultimately becomes Goose Creek.
Lost Creek is accessed by a 136 mile trail network, 105 miles of which are within the Wilderness boundary. The trail system traverses tree-lined mountain parks, fascinating rounded granite domes, and rare granite arches. Black bears, bighorn sheep, deer, elk, and bobcats share the region. Vegetation includes ponderosa, bristlecone, and lodgepole pine, aspen, spruce, fir, and alpine tundra.
Please help keep wilderness wild by following Leave No Trace practices.
At a Glance
| | |
| --- | --- |
| Permit Info: | Wilderness permits are required. Self-issuing permits are available at the wilderness boundary free of charge. |
| Usage: | Medium-Heavy |
| Restrictions: | Wilderness regulations apply |
| Closest Towns: | Bailey, Deckers, Fairplay, Lake George |
| Water: | Treat all non-potable water before consuming. |
| Operated By: | Forest Service |
| Information Center: | |
General Information
General Notes:
Trails
Please stay on trails. Cutting switchbacks and avoiding wet and muddy sections can cause severe erosion and multiple trail systems. For individuals travelling cross country, remember that alpine tundra is very susceptible to damage. Walk on durable routes of rock or talus when possible. In areas where this is not possible, disperse your use so no two footsteps land on the same spot. In keeping with the character of wilderness, where risk and self-reliance are part of the experience, map and route finding skills are essential.
Camping & Campfires
Take some time when you reach your destination to find the most appropriate site for you and your group. Try not to pick the first site you see, even if you're tired. Look around, choose a site that is protected, not visible from the trail, and is at least 100 feet from any water source. To minimize impacts, please use an existing site. If you choose to have a campfire, consider the following:
Large hot fires or concentrations of charcoal and ash can sterilize soils, leaving them unable to sustain plant life
Many visitors consider fire-rings an eyesore
Keep fires small and limit them to evenings or early mornings
Avoid having fires above treeline. Dead wood removed from Krummholz (dwarf trees near timberline) affects their survival.
Animals
Secure packstock 100 to 200 feet away from lakes, streams, or trails. Use a picket line and move stock often to prevent resource damage. Please remember, dogs must be on a leash at all times.
Water & Waste
All water can carry giardia (a protozoa that affects human intestinal systems and can cause serious illness). Boiling water for at least 5 minutes, using iodine tablets, or filtering can treat water.
Soap, even biodegradable, pollutes the water. Dispose of wash water at least 100 feet away from any water source. Bury human waste in a hole 6" deep and 200 feet away from any water source, trail, or campsite. Pack out toilet paper, feminine products, and left over food. Please Practice Leave No Trace Principles.

Directions:
View a list of trails within Lost Creek Wilderness (PDF)
View a trailhead vicinity map of Lost Creek Wilderness (JPG)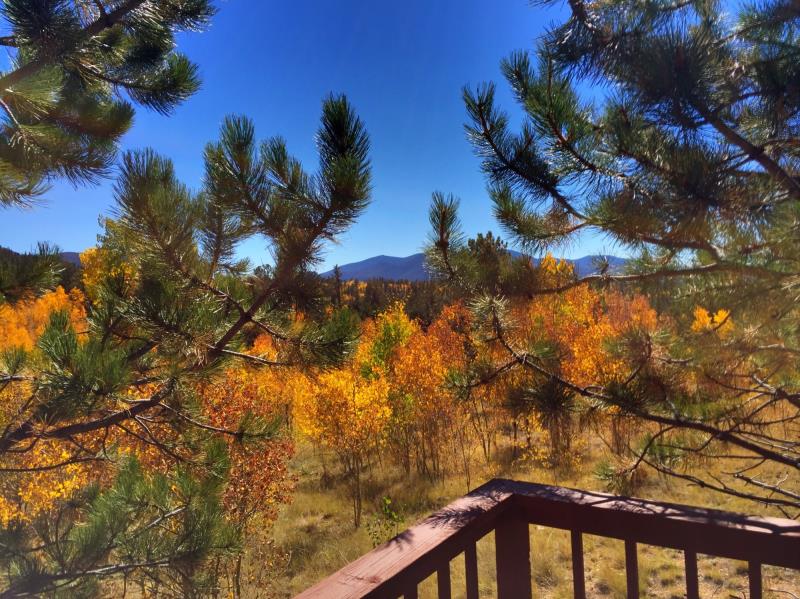 Topo maps
Forest Service Topography Maps: These maps overlay Forest Service assets, such as roads, trails, and campgrounds, on USGS's topographic maps. They are available for download by quadrangle.
Buy maps online
National Forest Store: Offers a full, nationwide selection of National Forest, Ranger District, Wilderness, and Specialty Maps for purchase online or by phone, fax, and mail.
Wilderness.net
Go to Wilderness.net for additional maps and information about Wilderness.