Is 'South Park' A Real Place?
Posted by Billi Taylor on Thursday, May 7, 2020 at 3:52 PM
By Billi Taylor / May 7, 2020
Comment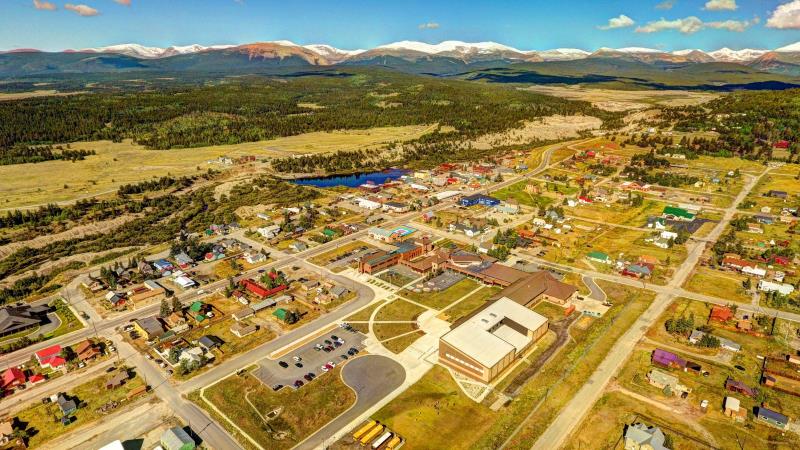 South Park is an American animated sitcom on Comedy Central television network. The series revolves around four boys and their exploits in and around the titular Colorado town. The show became infamous for its profanity and dark, surreal humor that satirizes a wide range of topics towards a mature audience.
South Park has received numerous accolades, including five Primetime Emmy Awards, a Peabody Award, and numerous inclusions in various publications' lists of greatest television shows. The show's popularity resulted in a feature-length theatrical film, South Park: Bigger, Longer & Uncut which was released in June 1999, less than two years after the show's premiere, and became a commercial and critical success, and garnered a nomination for an Academy Award. In 2013, TV Guide ranked South Park the tenth Greatest TV Cartoon of All Time.
The show follows the exploits of four boys. The boys live in the fictional small town of South Park, located within the real-life South Park basin in the Rocky Mountains of central Colorado. The town is also home to an assortment of frequent characters such as students, families, elementary school staff, and other various residents, who tend to regard South Park as a bland, quiet place to live. Prominent settings on the show include the local elementary school, bus stop, various neighborhoods and the surrounding snowy landscape, actual Colorado landmarks, and the shops and businesses along the town's main street, all of which are based on the appearance of similar locations in Fairplay, Colorado.
If you ask a Colorado local where "South Park" is, there's a good chance you'll get one of two answers – "it doesn't exist" or "it's Fairplay, Colorado." While there technically isn't a town called "South Park" in Colorado, there is a town in South Park National Heritage Area called Fairplay that fully embraces the suggestion that popular television comedy "South Park" is based on their high-altitude community. However, there's still some debate as to whether or not that is the case.
Located in Park County, Fairplay is a tiny town of less than 1,000, but also the largest town for miles in every direction. Even to the passerby, the scene bears several immediate familiarities to the show South Park, with its backdrop of mountains, colorful A-frame buildings, and quaint city streets. You'll even spot "South Park" characters tucked away in different local spots, from a display on Main Street to a hidden Mr. Hankey on the storefront of a nearby merchant.
Aside from the look and feel, certain local spots bear a strong resemblance to the show. First, there's the local "Stark's Pond." Though less remote than it is in the show, this tiny pond outside of town is a real place. There's also a spot called Java Moose that looks almost identical to Tweek's Coffee. Additionally, in Season 8 of the television series, it's mentioned that the fictional town of South Park is on Route 285, which also happens to run right through Fairplay – and right past Stark's Pond.
However, this is where things start to get murky. While both co-creators of the show are from Colorado, they don't publicly claim that Fairplay is where the show is actually located. In the real world, South Park is a somewhat local term used to describe the large grassland space located in Park County. Some have also suggested that the characters seem to be based more-so on the people of Boulder than those in a small mountain town. Additionally, while South Park is depicted to be rural, it's still mentioned in the show as a city of thousands, thus, much larger than Fairplay. It also doesn't seem to help the case of Fairplay when Fairplay is mentioned as a separate town in several episodes of the show, even specified as being "4 miles away" from South Park in the "Jakovasaurs" episode.
In conclusion, it's more likely Fairplay was used for inspiration of parts of the show, but not the inspiration of the town in its entirety. Is Fairplay "South Park?" No, probably not. But is anywhere "South Park?" Again, probably not. If somewhere in Colorado is going to claim this title, Fairplay seems like the safest bet, but until the show creators clarify, the verdict is still out.
UPDATE: In a recent episode, "The Scoots" (season 22, episode 5), a map was displayed during a town meeting in which the police department depicted South Park in relation to the towns around it. The neighboring towns included Fairplay, Harstel, Breckenridge, Leadville, Como, and Mala Vista, with South Park placed in the middle. This confirms that South Park is indeed designed to be a town of its own, not a fictionalized version of Fairplay, as many suspect.
Billi Taylor
Broker Associate, Jefferson Real Estate, Inc.