4 Wheeling in Park County, Colorado
Posted by Kevin Copeland on Wednesday, January 1, 2020 at 11:39 AM
By Kevin Copeland / January 1, 2020
Comment
Going off the Beaten Path in Park County Colorado
Surrounded by National Forest
Park County is surrounded by San Isabel, and Pike National Forests, and there are lots of trails that you can go wheeling on, no matter what your level of experience is. To see what the most famous trails in this area are, purchase or borrow the Guide to Colorado Backroads & 4-Wheel-Drive Trails, written by Charles A. Wells, and Matt Peterson. This is a great guide for wheeling in South Park. In that publication, the Park County trails are in areas 3, 4, and 5. The guide also categorizes the trails in green (easy), blue (moderate), and red (difficult).
The green trails can be done in just an all-wheel drive vehicle! You can get some great views and photography with a stock daily driver! The moderate trails are mostly for stock 4x4 vehicles, and the difficult trails are for heavily modified stock 4x4 vehicles, and custom made 4x4 vehicles.
You can also go to the National Forest district office where 285 meets highway 9 in Fairplay. They can provide Motor Vehicle Use Maps so you can see what trails are still open, as some close seasonally, and for nature regeneration.
It is also recommended that you do not wheel on your own. Have at least one other wheeler with you for safety reasons. When you get to the trailhead, you should get out and do a walkaround inspection to check common things around your vehicle such as tires, drivetrain, battery connections, fuel, coolant, and oil levels. Then air down if you are on a moderate to difficult trail. There are arguments on both sides of airing down, but science has proved that airing down actually increases your traction on rough terrain.
Also make sure you have at least a map and a compass. Most people today use apps on their smart devices, make sure you have it downloaded for offline use, as cellular service is extremely limited in the National Forest.
Right of Way
Now that you are ready to drive the trail, you need to make sure you stay to the dedicated trail that you are driving. A lot of people think, well, it's just me… but if everyone does that, then the area around the trail can get damaged, and over time, that can get the trail closed. In addition to staying on the trail, you must also adhere to the right of way laws when off-road. Below are the instructions: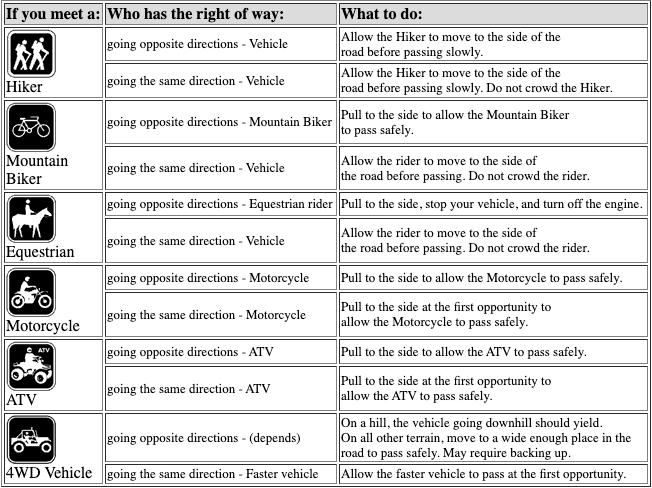 In addition to following the rights of way, and staying to the trail, it is not necessary to drive the difficult parts of a trail with a lead foot. You will have a higher probability of breaking your rig, and then contaminating the ground if you break a differential or blow your motor. Slow and steady is the way to be ready to finish what you started.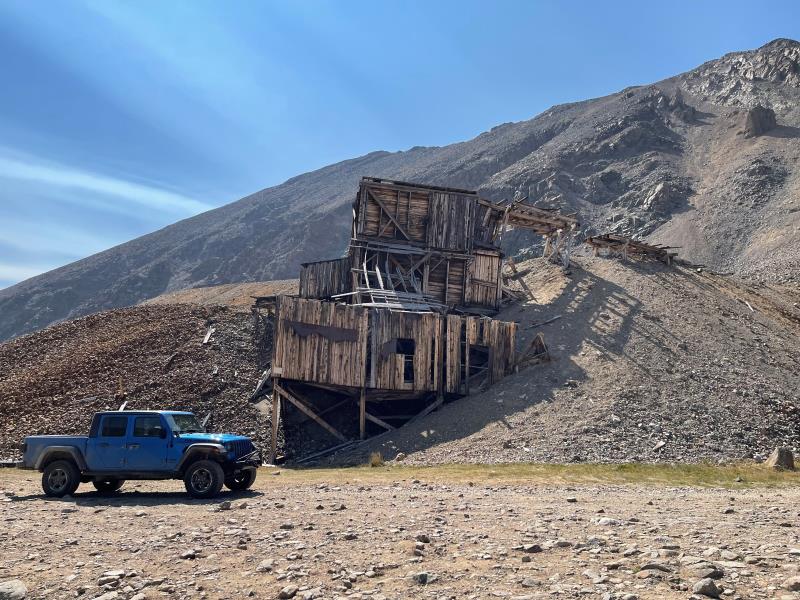 If you break down while you are wheeling, try to find the safest place to repair your rig. If you are only a few feet away from a flat spot, it is easier to change or repair a tire on a flat area instead of in a rock bed. This is also a reason why you should not wheel alone. If you do break down or get stuck, and you cannot get out of a sketchy spot on a trail, your wheeling buddies, can go back and forward on the trail prior to the sketchy spot to notify other wheelers that may be out there. One of the greatest things about wheeling is if you do break down and a different wheeler comes upon you, they will most likely offer whatever they can to help you move on. It is recommended to do the same, if you ever come across someone that is broken down or stuck. Do whatever you can to help them get safe again.
When you are finished wheeling and have made it to the exit of the trail, you should stop, get out and air up your tires with your compressor. While the tires are getting filled back up you should inspect the vehicle to make sure you aren't at highway speeds and something fails, that could be terminal to you and others.
Kevin Copeland
Cell Phone: 970.368.0025
Office Phone: 719.838.7001