105 Rock Creek Way, Jefferson CO 80456
Posted by Kevin Copeland on Thursday, June 1, 2023 at 3:09:28 PM
By Kevin Copeland / June 1, 2023
Comment
105 Rock Creek Way, Jefferson CO 80456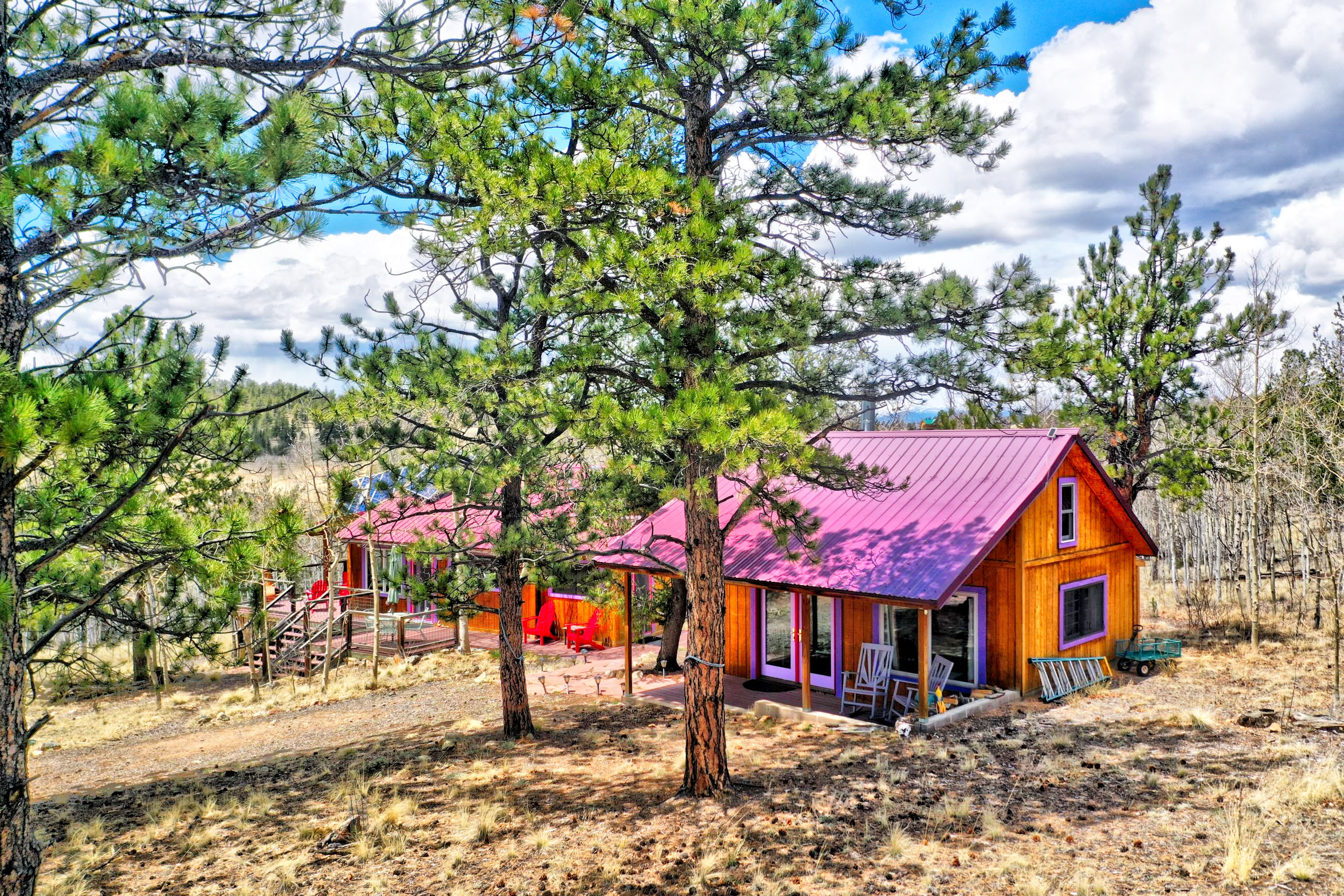 Charming Get-Away in Lost Park Ranch!
Welcome to 105 Rock Creek Way, nestled in the picturesque Lost Park Ranch subdivision. This charming home offers a serene mountain retreat on a sprawling 2-acre lot enveloped by towering trees, providing both privacy and a tranquil ambiance with private fishing rights to 3 stocked ponds and ~13 miles of River. Surrounded by nature's beauty, you can indulge in outdoor activities or create your own private oasis.
The abundance of mature trees adds to the overall appeal and provides shade during the summer months. Step inside this cozy abode and discover a well-designed floor plan spanning 576 square feet. The home features 1 bedroom and 1 bathroom, providing a comfortable space for relaxation. Additionally, there is a versatile bonus room with power, allowing for various usage possibilities such as a home office, a hobby room, or a guest space. The interior of the home boasts a warm and inviting atmosphere. The well-appointed bedroom offers a peaceful sanctuary, while the bathroom provides modern convenience. Don't miss your chance to own this hidden gem and its idyllic setting.
About Lost Park Ranch

105 Rock Creek Way, Jefferson CO 80456
Lost Park Ranch, located approximately 15 miles southeast of Jefferson, Colorado, on County Road 77, is a covenant controlled community enveloped by the scenic Pike National Forest. Spanning over 1,500 acres and encompassing 275 lots ranging from around 2 to 40 acres in size, this captivating subdivision offers residents a serene natural setting and breathtaking mountain vistas, with an average elevation surpassing 9,000 feet above sea level.
105 Rock Creek Way, Jefferson CO 80456
One notable feature of Lost Park Ranch is the Tarryall Fishing Club (TFC), an exclusive fishing club reserved for lot owners in Lost Park Ranch and Stagestop subdivisions, as well as certain landowners covered by the club's 13+ mile fishing lease along Tarryall Creek. The club provides a unique opportunity for residents to indulge in private fishing experiences along the picturesque Tarryall Creek, enhancing the allure of living within this idyllic community. Members of the TFC can enjoy the tranquility of the surrounding natural beauty while engaging in their favorite angling pursuits.

The homes for sale in Lost Park Ranch are nestled amidst the breathtaking Pike National Forest, creating an enchanting environment embraced by Topaz Mountain and North Tarryall Peak. The subdivision offers spacious lots, with some exceeding 10 acres in size, artfully distributed across the hills on the eastern side of the valley. This layout grants residents picturesque views of the surrounding landscapes and allows them to immerse themselves in the beauty of nature. With its close proximity to Colorado's vast wilderness areas, Lost Park Ranch provides an ideal haven for nature enthusiasts, outdoor adventurers, and those seeking a serene retreat in the heart of nature. 105 Rock Creek Way, Jefferson CO 80456


Kevin Copeland

105 Rock Creek Way, Jefferson CO 80456
Email: [email protected]
Cell Phone: 970.368.0025
Office Phone: 719.838.7001
---
Why Jefferson Real Estate?

105 Rock Creek Way, Jefferson CO 80456
Jefferson Real Estate, Inc. represents the region's finest properties with exceptional skill using the most innovative technologies currently available. We offer ultimate privacy and security, speed, and efficiency. Our Decades of full-time experience have given us a clear understanding of the mindset of home buyers and sellers and a thorough understanding of the Park County regional marketplace.
The Jefferson Real Estate Family Heritage

105 Rock Creek Way, Jefferson CO 80456
The Jefferson Real Estate Heritage goes back to 1800′s when Kevin Copelands Great Great grandparents arrived in Colorado by wagon train. As a fourth generation Coloradoan he offers a lifetime of experience and expertise to clients and Realtors at Jefferson Real Estate that is a valuable asset in assisting you with the purchase or sale of western properties. All of the Realtors at Jefferson Real Estate (Kevin, Tammy, Rich, JoAnn, Billi, & Kathie) love and live in Park County, they will be proud to share it and enjoy helping you become a part of its rich history. Their efforts and dedication to Jefferson Real Estate plays an integral role in maintaining our reputation as the leading real estate firm in the South Park area.
Experience Matters

105 Rock Creek Way, Jefferson CO 80456
With Decades of experience helping local buyers and sellers just like yourself, we know how to locate the finest properties and negotiate the best deals in the west. It's our job to know about the latest Park County market conditions and government regulations — so that you don't have to.